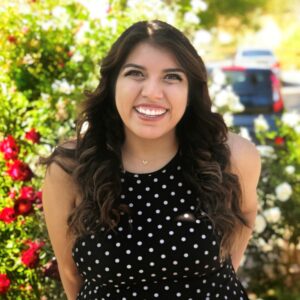 Esmeralda Garcia
Vice President, Digital Engagement
Staff Assembly
Esmeralda Garcia is a proud first-generation alumna of UCLA and our Vice President of Digital Engagement for Staff Assembly. She graduated in 2018 with a degree in political science and a minor in education studies. Her career began at UCLA, first at the UCLA School of Dentistry as the Development Coordinator, and now at the UCLA Anderson School of Management as the Assistant Director of Annual Giving. In this role, she is the lead project manager, editor, and principal writer for various print and electronic projects, including direct mail and email solicitations, student and reunion campaign-related promotional materials, and appeals.
In addition to her day job, Esmeralda volunteers and serves as President of the UCLA Westside Los Angeles Alumni Network. Through collaboration with alumni, students, faculty, and staff, she leads the network in enriching the lives of alumni and encourages philanthropic support of the network scholarship for future Bruins.
Grateful for the opportunities UCLA provided her both personally and professionally, Esmeralda is passionate about giving back to her alma mater. As the VP of Digital Engagement, she is excited to expand Staff Assembly's outreach and cultivate a strong community among staff through social media outlets and digital platforms.