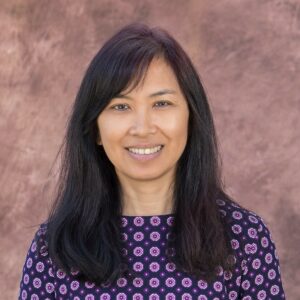 Gerrie Zvara
Vice President, Programs
Staff Assembly
Gerrie Zvara is the Vice President of Programs for the UCLA Staff Assembly and a UCLA alum with a B.A. in Psychology and specialization in Business and Administration. After graduating from UCLA, she moved down south to San Diego to complete her Masters and Ph.D. degrees in Industrial and Organizational Psychology from the California School of Professional Psychology. Before coming back to UCLA, Gerrie worked for the City of San Diego Environmental Services and the San Diego District Attorney's Office as an Organizational Development (OD) and Training specialist. Although she loves San Diego, Gerrie did not hesitate when an opportunity arose to come back to campus. She was the Training and Development manager for Transportation Services (now Events & Transportation) for two years before transitioning to her current department, Organizational Effectiveness and Development. As an internal OE/OD consultant to the UCLA Administration organization, Gerrie has the opportunity to work with all ten departments and individuals from all levels of the hierarchy, which allows her to gain a variety of perspectives on how to make the organization effective. Gerrie is committed to creating a safe environment for individuals and teams to grow beyond their expectations and to realize the impact they have in making an organization successful. She takes pride in her ability to move people and processes toward results that will enhance organizational effectiveness and contribute to the strategic goals of the organization.
Gerrie is a huge sports fan (Bruins, of course) and loves to attend live theatre, especially musicals. She enjoys spending as much quality time with her family as she can, whether it is just hanging out at home binge-watching some show or packing up the trailer and glamping somewhere in California. She loves to travel all over the world but has a special spot in her heart for Hawaii.
Gerrie is looking forward to continuing the efforts that her predecessors have accomplished in creating engaging programs for staff that are meaningful, informative, and fun. She is excited to collaborate with the Staff Assembly Board and enrich her campus network.