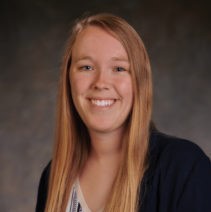 Grace Hubrig
Vice President, Creative Production
Staff Assembly
Grace Hubrig is returning for her second year as the Vice President of Creative Productions. She works as a Graphic Designer and Social Media Manager for the ASUCLA Marketing Department. Grace designs signage, flyers, logos, emails, and more for the UCLA Store, ASUCLA Restaurants, and the Student Union. In addition, she runs the @asucla and @uclastore Instagram channels with her amazing social media team. Grace loves working in this department because she receives such a variety of project requests and works together to come up with the best creative solutions.
Grace began with ASUCLA as a Student Graphic Designer in 2016 and was hired full-time in 2018. She graduated from UCLA with a BS in Psychobiology in 2018 and completed the Design Communication Arts certificate from UCLA Extension at the end of 2019.
Grace loves UCLA and feels lucky to get to work with such great people! As VP of Creative Production, she would like to spread this sense of community to all UCLA staff through engaging, friendly, and inviting graphics that make everyone feel excited to attend Staff Assembly events and proud to work at UCLA.